TRAILER HITCH HARNESS ATTACHMENT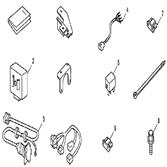 (Retail price: $200.00)
Standard Qty. :
Part Number

Price without installation

Price with installation
Enables your MDX to tow at its full 5000 lb. capacity
The Trailer Hitch Harness mounts directly to the rear structural member for optimum performance, strength and security
Class III Trailer Hitch
Disclaimer: If any items required for installation are not purchased or already on your vehicle, it may necessitate these items to be purchased separately at the time of installation.
2013 MDX TRAILER HITCH HARNESS ATTACHMENT 2013 Acura MDX TRAILER HITCH HARNESS ATTACHMENT
Kendall Acura map

Phone: (541) 4856111
846 Goodpasture Island Rd
Eugene,OR 97401-1752
Parts Manager:
Hans Burt
Hours of Operation:
Mon-Fri 7:30AM-6:00PM
Sat 8:00AM-5:00PM
Sun Closed