FIRST AID KIT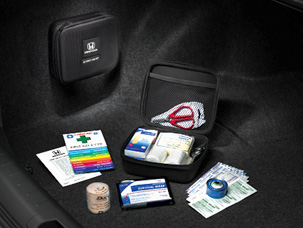 (Retail price: $30.00)
Standard Qty. :
Part Number

Price without installation

Price with installation
The Honda First Aid Kit is custom-designed to provide a convenient aid.

Includes first-aid manual and basic first-aid supplies to manage minor injuries
Custom-designed ballistic, zippered case for convenient storage

Note: As shown in the Accord Sedan
Disclaimer: If any items required for installation are not purchased or already on your vehicle, it may necessitate these items to be purchased separately at the time of installation.
2010 CROSSTOUR FIRST AID KIT 2010 HONDA CROSSTOUR FIRST AID KIT