BED EXTENDER-MOTORCYCLE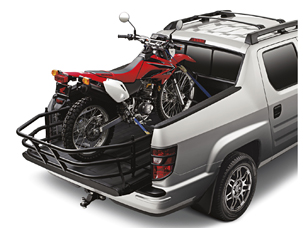 (Retail price: $358.00)
Standard Qty. :
Part Number

Price without installation

Price with installation
08L26-SJC-100A

$358.00

$438.00
The Motorcycle Bed Extender adds capacity and functionality to your Ridgeline's cargo bed. It mounts forward, at the back of the cabin, or at the end of pick-up bed. Either way, you've got room for the motorcycle, or whatever else.

With tailgate down, the Bed Extender offers an extra 16" of storage for a maximum cargo length of 76"
Forward mount position is easily accessible through the power sliding rear cabin window for addition secure storage
Can be moved between forward and rear mount positions with snap-in attachment points, no tools required
Available in standard or motorcycle style with motorcycle style allowing you to load up to a Honda CRF 250 or CRF 450 while still using the extender

Customers should verify length of intended cargo prior to loading. Always secure stored items behind the tailgate with the dual-action tailgate closed to prevent cargo from moving around.

Some components and colors may vary. Please see your Honda Dealer for details.
Disclaimer: If any items required for installation are not purchased or already on your vehicle, it may necessitate these items to be purchased separately at the time of installation.
2014 RIDGELINE BED EXTENDER MOTORCYCLE 2014 HONDA RIDGELINE BED EXTENDER MOTORCYCLE
Continental Honda map

Phone: (708) 3526000
5901 So La Grange Rd
Countryside,IL 60525
Parts Manager:
Steve Burda
Hours of Operation:
Mon-Thu 7:00AM-7:00PM
Fri 7:00AM-6:00PM
Sat 8:00AM-5:00PM
Sun Closed